Today, we publish the release canidate for version 3!
The release candidate contains the new front end with all features the final release will have and some new demo reports, which demonstrate the new layout possibilities of 3.0.
In difference to our original plan, the Workbench still contains a report editor and users will be able to create and edit reports in the web front end OR in the Workbench.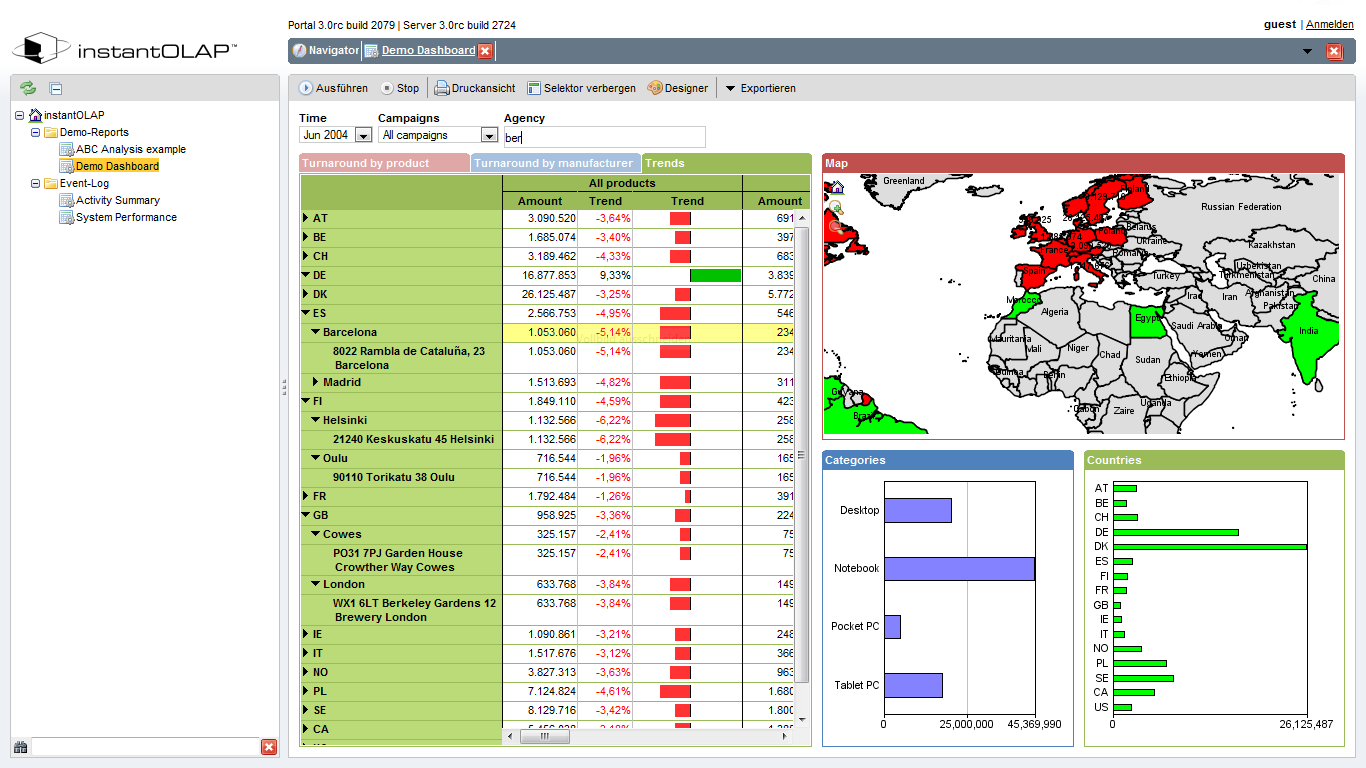 Download links
Windows installer
Complete, 32-Bit (Windows Installer), Version 3.0.rc, 08.02.2012, 74.9 MB
Workbench, 32 Bit (Windows Installer), Version 3.0.rc, 08.02.2012, 26.1 MB
Linux installer
Server (Linux Installer, RPM) , Version 3.0.rc, 08.02.2012, 69.6 MB
Platform Independend Java Archives
Frontend (WAR-Archive), Version 3.0.rc, 08.02.2012, 19.9 MB
Backend (WAR-Archive), Version 3.0.rc, 08.02.2012, 4.9 MB
Workbench (WAR-Archive), Version 3.0.rc, 08.02.2012, 16.0 MB
Complete (EAR-Archive), Version 3.0.rc, 08.02.2012, 40.5 MB
instantOLAP Console (JAR-Archive), Version 3.0.rc, 08.02.2012, 0.1 MB
Release Notes
Web-Frontend
A new block structure was introduced:

There is no difference between inner and outer blocks and they can be nested as deep as wanted
Each block can contain a selector bar, attached to the top, bottom, left or right of the block.
Blocks will load their content individual and parallel to other blocks
Tabbed blocks load their content on demand when switching to another tabulator
The orientation property of blocks was replaced by the new block formats "vertical", "horizontal", "tabbed" and "animated"

A new designer mode was added and replaces the prior pivot-designer:

The designer offers different panels for different report elements, for the report itself, blocks and queries The block designer offers a couple of block designs
The query designer allows to add dimensions and levels to axes with a single mouseclick
With the table designer, you can switch blocks into tables by using one of  the preformatted layouts
The chart designer turns a query into one of the predefined charts

A new edit mode allows to edit reports inside the browser. In difference to the simple design mode, the editor offers the same ability to build the same complex reports and to edit all existing properties – like in the workbench.
The frontend has a new look&feel
Workbench
The query editor was adopted to the new block structure